STICKERS | PATCHES | PINS
"F**k The System" by Pascal Leo Cormier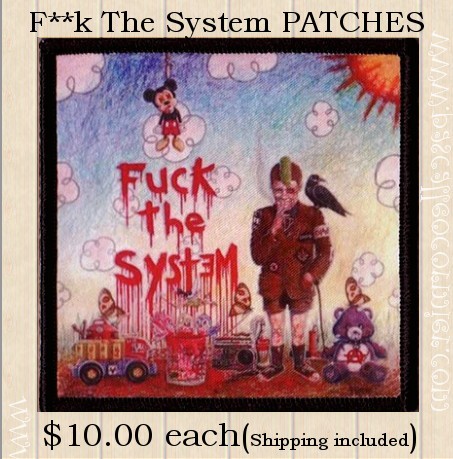 "F**k The System"
Iron On Patch
3" x 3"
2017
INFO:
(Le Français suit)
This Punk Rock PATCH is 3" x 3" in diameter, and was professionally printed a silk screen printing process, ici au Canada. Each patch comes with a self-adhesive backing, ready to iron-onto your favorite ripped denim jacket, your school bag, or your prom dress.
$12 CAD (Shipping included)
(The original piece(SOLD) was acrylic, color pencils and oil sticks on wood, 16" x 16", and was done for the "PUNKS NOT DEAD" group exhibition at the 63 Bluxome Street Gallery in San Francisco.)
CONTACT the Pascal Leo Cormier Team with any questions and special inquirie.


© 2017 Pascal Leo Cormier a.k.a. Payazo
~~~~~~~~~~~~~~~~~~~~~~~~~~~~~~~~~~~~~~~~~~~~~~~~~~~~~~~~~~~~~~~~~
Français
Cette PATCH "Punk Rock" est 3" x 3" de diamètre, et à été imprimée professionellement dans un procès de silk-screen, ici au Canada. Chaque patch
vient avec un adhésive, et peut être tout de suite collé avec un fer à repasser sur votre jacket en denim déchiré préféré, votre vieux sac d'école ou votre robe de bal!
$12 chaques (Livraison incluse)
(L'original de cette oeuvre était acrylique, crayons de couleur et baton d'huile sur bois, 16" x 16", et a été faite pour l'exposition collective "PUNKS NOT DEAD" à la Galerie 63 Bluxome Street à San Francisco.)
CONTACTEZ l'équipe de Pascal Leo Cormier avec vos questions.


© 2017 Pascal Leo Cormier a.k.a. Payazo